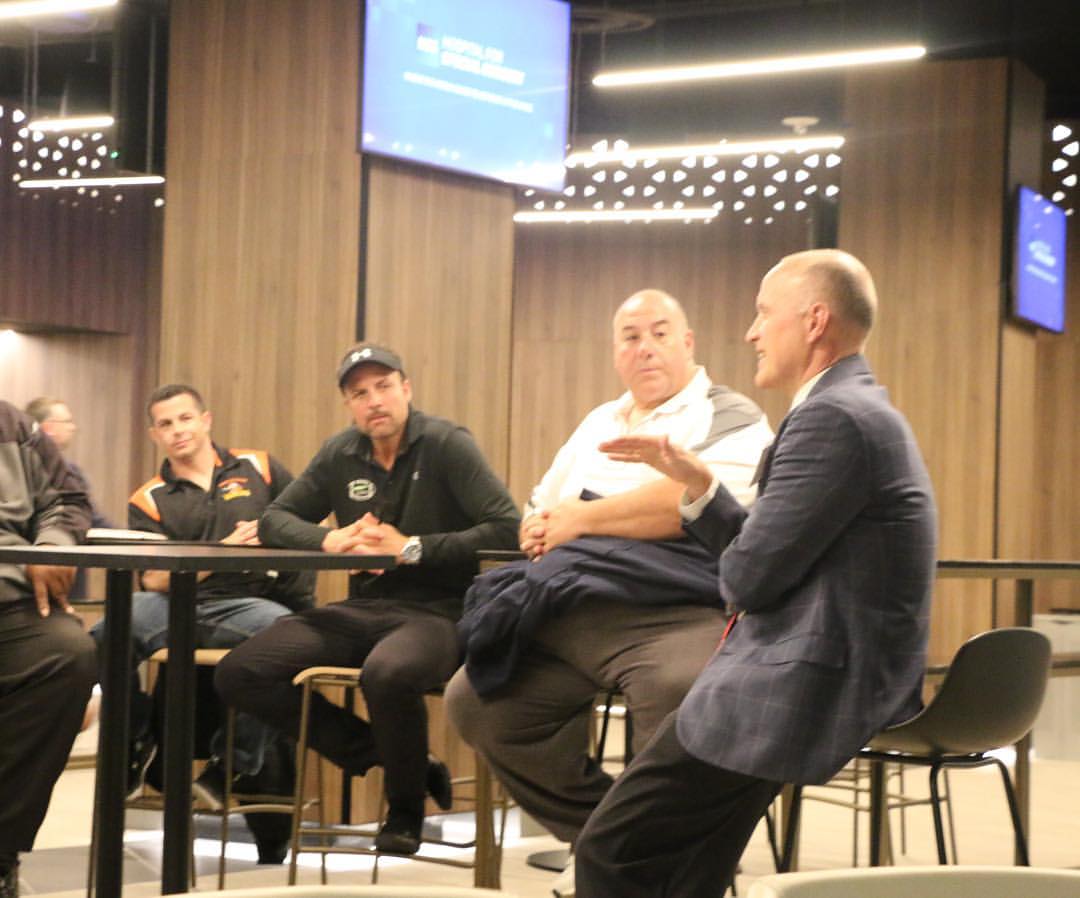 LONG ISLAND KNIGHTS FOOTBALL (FORMERLY NORTHPORT YOUTH FOOTBALL CLUB) is a competitive football program which has always modeled the best in safety and sportsmanship.
Our leaders have been doing this over 15 years and received many accolades for their efforts to promote the sport and the best safety practices. 
To the best of our ability, our leaders and coaches teach our players proper technique and how to be good men on and off the field. Our league was recognized by USA football in 2014 for running the safest program in Long Island. They selected our Club to film a heads-up television football commercial because of how effectively we promote safe coaching within our program.
In 2017 our former President, Benjamin Carey personally organized and chaired the Long Island Summit on Football Safety with Dr. James Kinderknecht at the Nassau Coliseum. The program was done in collaboration with the Hospital for Special Surgery and Suffolk County PAL and widely recognized Carey as a safety advocate in the sport of youth football.
Anxious parents considering youth football for the first time might take note of the following misconceptions:
Your child does not have to be a big kid to play football. If you compare our 6/7 year olds to their soccer and baseball counterparts they are generally the same size. There are even some children on the football team that are significantly small. There are positions for every size and ability.
In Youth Football, there is "an absence of catastrophic head and neck injuries and disruptive joint injuries found at higher levels."
The injury rate in Youth Football is: less than one-third the injury rate in high school football, less than one-fifth the injury rate in college football, less than one-ninth the injury rate in professional football.
Age-weight schematic protects younger, lighter players, who do not have higher injury rates.
Organized football among 5 – 15 year-olds has 12 percent fewer injuries per capita than organized soccer in the same age range.
Organized football among 5 – 15 year-olds has 50 percent fewer injuries per capita than bicycle riding in the same age range.
Organized football among 5 – 15 year-olds has 74 percent fewer injuries per capita than skateboarding in the same age group.
 Injuries in youth football are normally mild, and older players have a higher injury rate than younger players.
 The Institute of Sports Medicine and Athletic Trauma in New York completed a Pop Warner injury survey in 71 towns covering over 5,000 players in 1998. The injury experience of 5,128 boys (8 to 15 years of age, weight 22.5 to 67.5 kg [50 to 150 lbs.]) participating in youth football revealed an overall rate of significant injury of 5%, with 61% classified as moderate and 38.9% as major injuries.  That's about 1.33 per team per year.  No catastrophic injuries occurred, and it was rare for a permanent disability to result from an injury.
We hope you will peruse all of the information on our website and decide to join LONG ISLAND KNIGHTS FOOTBALL (FORMERLY NORTHPORT YOUTH FOOTBALL CLUB) . Your child can come on board at any age and there are various recruitment events, mini camps, and other activities for you to get more acclimated with the league. We even have a youth football orientation and safety clinic for moms! You may contact us if you have additional questions. We believe the integrity and reputation of our program and coaches speaks for itself.
See you on the field.