QUESTIONS ABOUT LI KNIGHTS YOUTH CHEERLEADING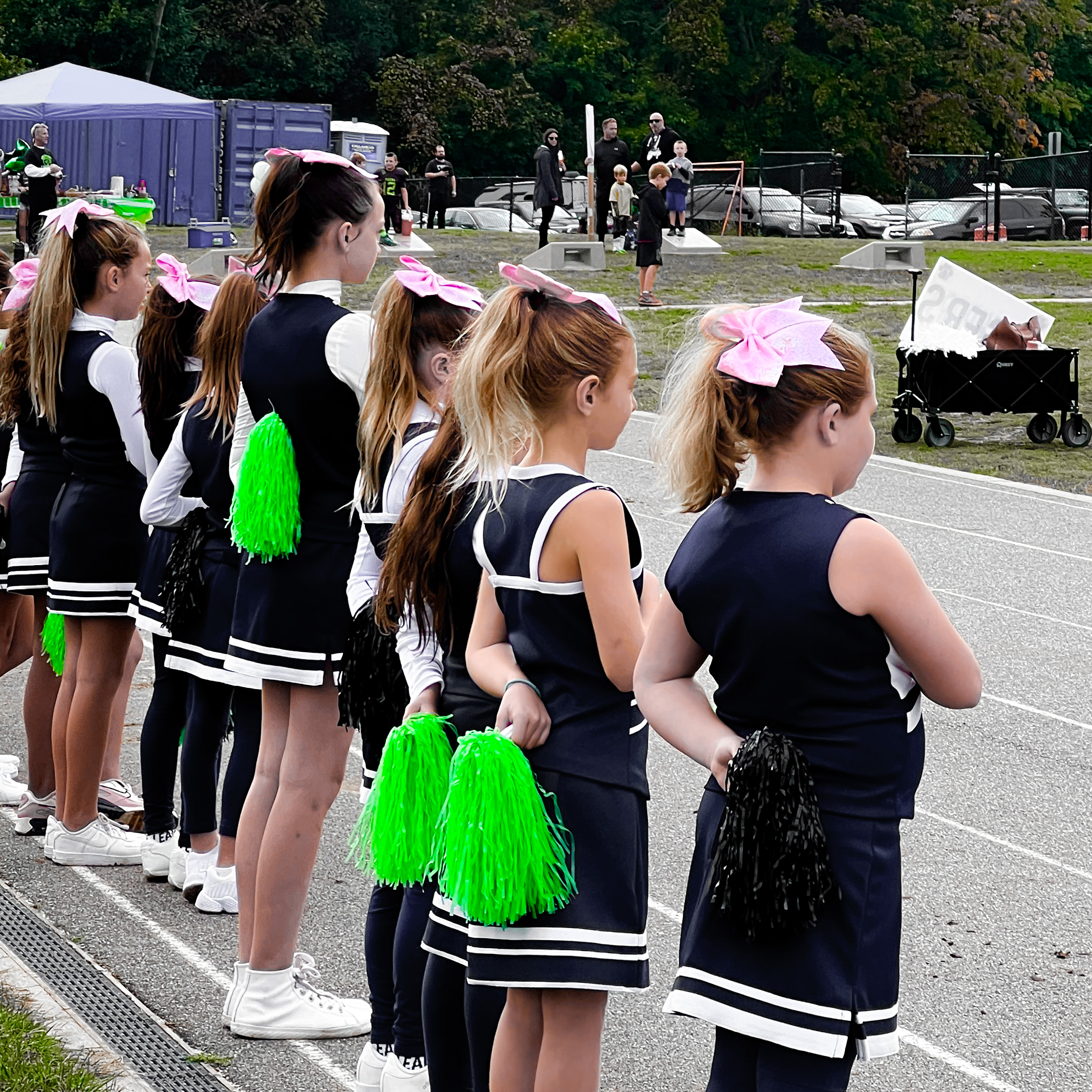 Are there tryouts?
No, there are no tryouts at the youth level.
When and how often are practices?
Practice will begin in July and run weekly on Tuesday and Thursday evening through the season.
Where will practices be held?
Practices will be held at VETS Field in Northport and occassionally at Granny Rd. Park in Medford, and Seaman's Neck Rd in Seaford and at our indoor facility in East Northport during inclement weather.
What will a typical practice look like?
Practices will include whole and small group instruction. Cheerleaders will cycle through learning cheers, stunts, tumbling, dancing, and much more. Practices may include a single team or multiple teams grouped together depending on building availability.
What will be included in registration fee?
Registration will include the uniform rental, a cheer Bow, and a team Sweatshirt. A uniform deposit check is required (not deposited) and returned when the uniform is returned in good condition.
What else is involved?
Raffles – as part of our annual fundraiser, each parent is responsible for selling a book of raffles prior to receiving a uniform.
Non-Volunteer option – as a volunteer organization, we rely on help from our families, however, we understand everyone is busy.
Parents will be responsible for buying "Cheer Gear" which will be available for purchase through the league.
Cheer gear includes:

poms (if you don't already have them)
black "no show" socks
black cheerleading sneakers
black compression shorts
black crop top
What are "Team Coaches" vs "Team Managers"?
Each team will have "Team Coaches" and "Team Managers."
Team Coaches will be assigned to each team to run practices, provide instruction on cheers, dances, stunts etc., and coach the team during games.
Team managers support the coaches with non-instructional duties. Team parents are vital to the team and are encouraged to attend practices, games and events.
What other opportunities are there to volunteer?
We rely on volunteers. The league is always looking for people to get involved in fundraising, uniform distribution/collection, apparel sales, coordination of events, and much more.
How will teams be divided?
Teams are divided after registration before the teams start.
Will my child on cheerleading be able to cheer for my child on football?
This is not guaranteed. Cheerleaders do not cheer for the same team every week so it is unlikely that the schedules will coincide with one another.
Can my child cheer with her sibling/friends in another grade?
It's possible but not likely. It depends on the number of kids and teams for the season. You are welcome to ask the cheer directors before the season starts. Like most sports, teams are divided by age and grade, so unless they are in the same grade, they likely will not cheer with each other.
Where will the Cheerleaders cheer?
Cheerleaders will be assigned to home and away LI Knights Football games on a weekly basis. In addition to LI Knights games, cheerleaders will have an opportunity to take part in special events. In the past these events have included marching in the Cow Harbor Day parade, dancing at Citi Field Dance, going to a Stony Brook University football game, cheering at a High School Football game and more.
When will we know the schedule?
Practice: Typically, late June
Games: Game schedule should be released sometime in August. We will do our best to provide as much advanced notice as possible. It is important to know that game times and locations are subject to change last minute.
Still have questions?