LONG ISLAND KNIGHTS
NORTHPORT – COMMACK – ELWOOD – HARBORFIELDS
AND ALL OF LONG ISLAND
LI Knights is  a Town Team, Not an All-Star Team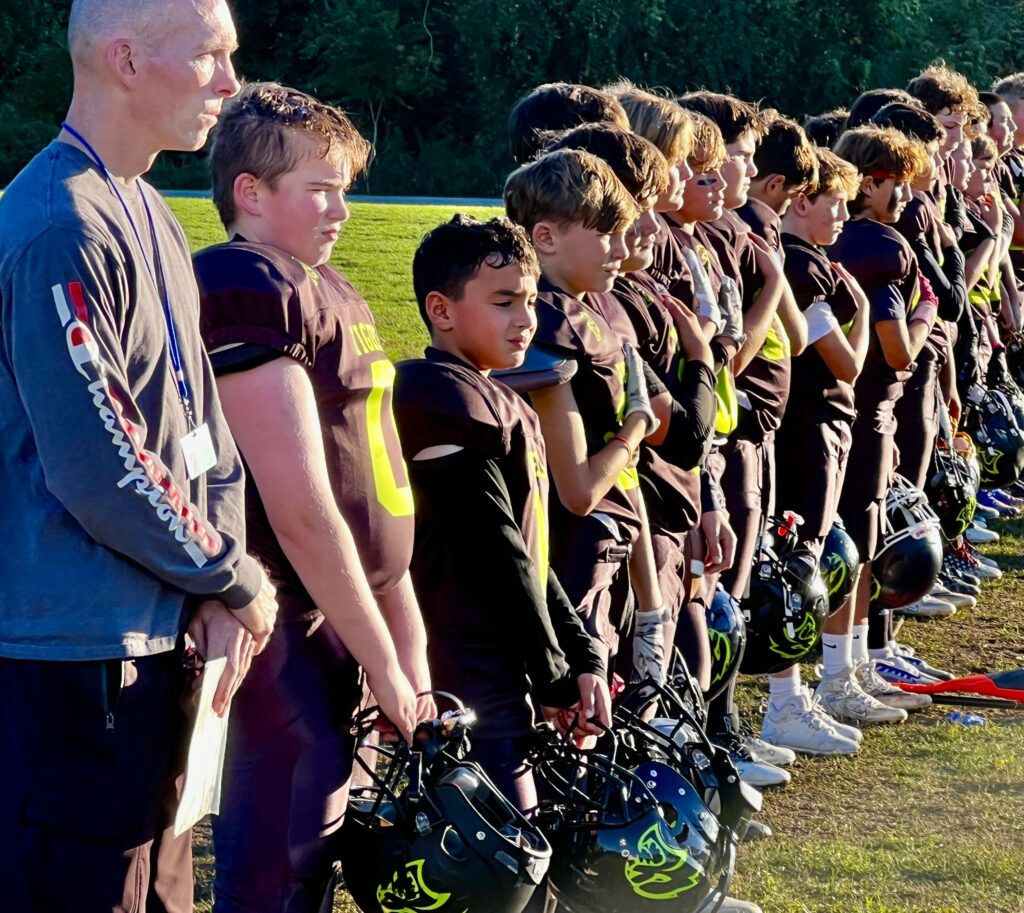 LONG ISLAND KNIGHTS FOOTBALL (FORMERLY NORTHPORT YOUTH FOOTBALL) is a privately owned non-profit corporation. The organization focuses on training, support, and guidance, therefore providing the resources needed to develop skills including but not limited to physical, social and emotional growth for both individual and team success. The program aims to teach its members grit, competitiveness, responsibility, self-discipline, hard work and sportsmanship as they proceed on their journey from adolescence to young adulthood. The organization offers financial support and stipends for disadvantaged talented youth who would like to participate in the program.
Our program has achieved nearly two decades of year-over-year growth and received many accolades. It's an honor to play or cheer for LI Knights. The program has become synonymous with great players, excellent instruction, and winning traditions.  We don't just teach football, we are football. LONG ISLAND KNIGHTS is Long Island's premier football organization. Our program includes the highest safety standards, the best coaching, and the best uniforms and training. We also face the toughest opponents in the region. We hold our athletes to high standards. Safety, family, and academics come first, teamwork is always a must and we invoke the spirit of the game for our youth football players and cheerleaders. Come join the best!
LONG ISLAND KNIGHTS FOOTBALL continues in the decades old tradition of a competitive football league, not a recreational one. Playing time is awarded by merits and performance, there is no "daddy ball" or nepotism, and the Nassau-Suffolk football league that we play in is focused on COMPETITIVE FOOTBALL, and how we can get elevate the sport. BTS league has a solid reputation for competitive football, teaching life lessons that transcend the field, and focusing on the children and X's and O's, BTS is not fixated on egos, power trips or enforcing how much eyeblack a 6 year old is wearing.
LONG ISLAND KNIGHTS FOOTBALL (FORMERLY NORTHPORT YOUTH FOOTBALL CLUB) is a Tackle Football and Cheerleading organization with a rich history & tradition of developing young kids through lessons that transcend the field. This is new name but the same great values and mission of our last organization. LI Knights Games will be played across Long Island and Metro NY. The LI Knights are not affiliated with the new "Northport Football" club using our former name. The LI Knights are not part of Suffolk County PAL.
Long Island Knights Football: Competitive Football, Not Daddy Ball.
See our Parent Guidelines
See our Frequently Asked Questions
See our Registration & Information Page
Volunteers
LI Knights is supported by the efforts of volunteers who commit an extraordinary amount of time and hard work, ensuring that our league is a positive influence on the lives of the children. We strive to provide a service to our community by providing a healthy outlet for children, opportunities for the community to gather together, and endless hours of entertainment.
Go here for Cheerleading information and registration.